First WHO Ministerial Conference on Global Action Against Dementia
18 March 2015. Under the theme "Global Action Against Dementia", a WHO Ministerial Conference was held, for the first time, on 16th and 17th March 2015. The central topic of the conference was the cur-rently rising number of dementia cases worldwide. Federal Minister of Health, Hermann Gröhe, took part in the Geneva conference, at which the health ministers of the WHO Member States held discussions with experts from the scientific, medical and NGO communities.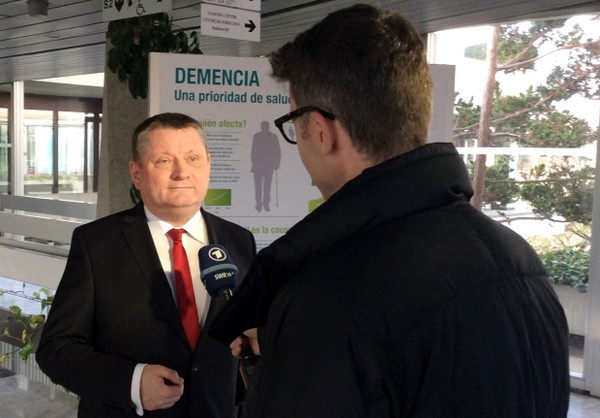 " Already today, 47 million people suffer from dementia worldwide and, by 2050, the number of dementia cases is set to triple. This is why it is both right and important for the WHO Ministerial Conference to address this topic. It is our shared obligation to do more to stop this disease and more to help those affected by it. This is why international efforts are required to strengthen dementia research, to continue to improve the nursing and medical care available to patients, and to create a societal environment that supports persons with dementia and their relatives. With the Act to Strengthen Long-Term Care and the 'Alliance for Persons with Dementia', the Federal Government has introduced important improvements for persons with dementia and their relatives. By providing approximately 66 mil-lion euros per year in funding for the German Centre for the Research of Neurodegenerative Diseases, we have significantly expanded the support available for research into new treatment and diagnostic approaches. In the second phase of the long-term care reform, we will be organising the long-term care insurance in such a way that dementia diseases will receive the same degree of consideration as physical disabilities.
The two-day Ministerial Conference in Geneva was divided into several panels focusing on different themes. On Tuesday, the Federal Minister of Health, Hermann Gröhe, held a statement at the panel on "Living Well with Dementia". On the sidelines of the WHO Ministerial Conference, Hermann Gröhe had the opportunity to meet, among others, his British counterpart, Jeremy Hunt, Luxembourg's Minister of Health, Lydia Mutsch, as well as the Swedish Health Minister, Gabriel Wikström.
Background

The objective of the WHO Ministerial Conference was to draw the public's attention to the disease of dementia, exchange information on the latest research, and to join forces to identify possible international solutions to reduce the prevalence of the disease and help those affected.
In Germany, approximately 1.5 million persons currently live with dementia; by 2050, the number of persons with dementia is expected to rise to 3 million.

Videos of the Ministerial Conference "Global Action Against Dementia" can be found on WHO's website.

More Information
Overview page on long-term care

World Health Organization (WHO)

Official WHO website