G7 Health Ministers' Meeting in Berlin
On 8 and 9 October 2015, the Health Ministers of the seven leading industrialised nations – the USA, Great Britain, France, Italy, Japan, Canada and Germany – met in Berlin at the invitation of Germany's Federal Minister of Health Hermann Gröhe. They adopted a Declaration addressing Antimicrobial Resistance and agreed to co-operate more closely on controlling global health emergencies.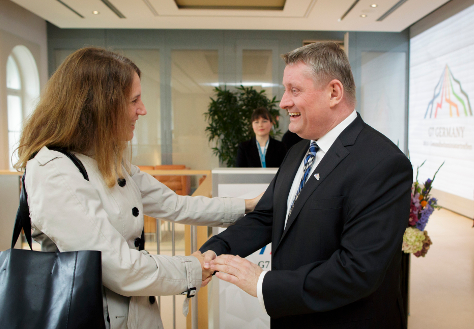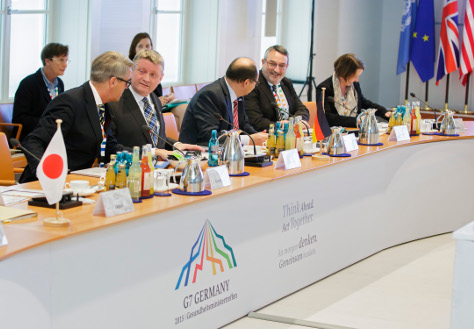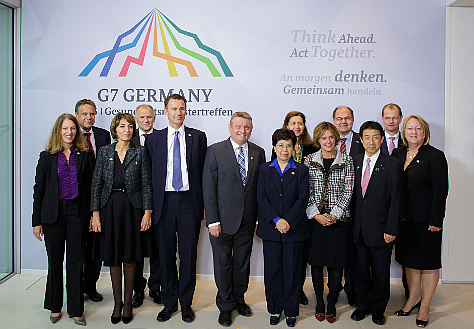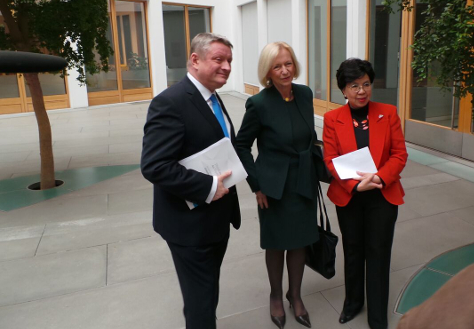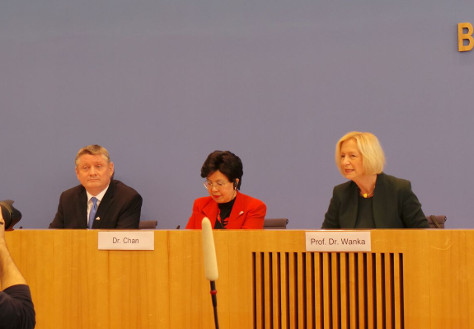 A global death toll of more than 700,000 people per year from antimicrobial resistance and last year's devastating Ebola epidemic in West Africa call for concerted action. Consequently, the G7 Health Ministers' Meeting in Berlin saw a lively exchange of ideas and suggestions as well as concrete pledges and promises.
" Now more than ever, we must think of health as global health, because disease is no respecter of national borders. Only joint international efforts will be able to effectively protect our populations, Germany's included, from superbugs and cross-border epidemics. Therefore, it is good to see that we, the Group of Seven Health Minis-ters, are joining forces now to address global health threats. This sends out a strong signal for global health policy.
Gröhe and his six counterparts underpinned their commitment with the 'Berlin Declaration on Antimicrobial Resistance – Global Union for Antibiotics Research and Development (GUARD)'. It requires that antibiotics may only be used for the purpose of medical treatment after appropriate case-based diagnosis. Vitally, human and veterinary uses will be subject to prescription. To enforce antibiotic stewardship worldwide, the G7 intend to support other countries with weaker health care systems. This commitment also includes greater engagement in research, the development of new antimicrobials, treatment alternatives and rapid diagnostic tools as well as the establishment of a global network of experts on antibiotics. Moreover, exchange in this field will be encouraged through product development partnerships and economic incentives. Also, antibiotics are to be brought to the market faster thanks to harmonised regulatory procedures and technical requirements.
Day 2 of the meeting focused on the 2014 Ebola epidemic in West Africa. For countries to be able to respond swiftly and effectively to such crises, they need resilient health care systems. The international community and the G7 will help poorer countries build such systems. Germany's Federal Ministry of Health will lend a hand in setting up robust health care structures, which includes a staff training programme in health emergency management. Moreover, a rapid response team to be formed from epidemiologists and laboratory experts with the Robert Koch Institute (RKI) and Bernhard Nocht Institute (BNITM) will provide in-country support as soon as an outbreak emerges. The programme will be launched in 2016 with a funding of four million euros and is intended to run for an initial period of five years.
WHO Reform
Joined by WHO Director-General Dr. Margaret Chan, the G7 Ministers also discussed the role of the World Health Organization. They concurred that its emergency response capacity had to be strengthened, in particular, for instance through a global health emergency fund and a global health emergency task force.

The Group of Seven (G7) is an informal forum for the heads of state and government of seven leading industrialised nations: the USA, Great Britain, France, Italy, Japan, Canada and Germany. Germany is holding the rotating Presidency in 2015. In their quest to develop constructive solutions to key global policy issues, the Members award great importance to the public health sector. After all, their citizens' health is a value in its own right and, at the same time, a strong driver of socioeconomic growth and stability. For Germany, 'health' has been a priority of this year's G7 Presidency and was already high on the agenda of the Summit at the Bavarian resort of Elmau.